Amazon retail centre advertises 900 Staffordshire jobs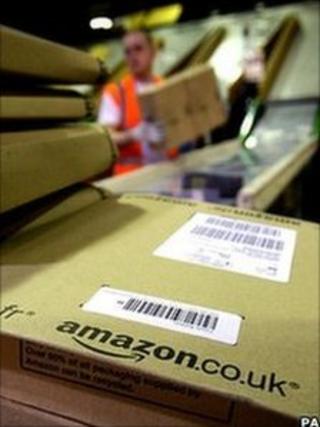 Online retailer Amazon has advertised 900 vacancies at its new processing centre in Staffordshire.
It has invited job applications for its centre in Rugeley for workers to help process orders and provide customer service.
Cannock Labour councillor Gordon Alcott said it was a "fantastic" opportunity to secure local employment.
He said the council would work with local recruiters and Job Centre Plus to help unemployed people apply.
Amazon moved into a new 700,000sq ft building at Towers Business Park, in Rugeley, in July.
Mr Alcott, economic development and planning leader for Cannock Chase Council, said: "This represents a fantastic opportunity for the people of Rugeley and Cannock: there are literally hundreds of jobs available right on their doorstep.
"Amazon is a truly global organisation and I am positive that we have the skill base here in our community to fill these roles in a world-leading company.
"The council will continue to work with Amazon, their recruitment agents Randstad, Job Centre Plus and training providers, to ensure that local unemployed people are also considered for the new posts.
"For the district this is obviously a big boost and we hope that as many people as possible will take up this opportunity with both hands and apply for these vacancies."
Amazon announced in May that it would also be creating hundreds of jobs at new centres in Dunfermline and Edinburgh.
Since 1998 the firm has sold a wide range of products online, including books, music, computer games and electronic equipment.