Black-necked grebe seen at Doxey Marshes nature reserve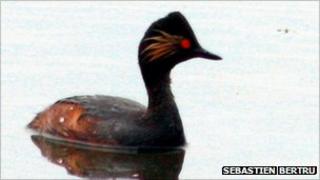 Bird watchers have been flocking to Doxey Marshes near Stafford to catch sight of a rare bird.
The black-necked grebe has been spotted at the Staffordshire Wildlife Trust nature reserve for the first time.
The marshes is a site of Special Scientific Interest for nationally significant populations of several wetland bird species.
In one week, staff and volunteers on the reserve have now added an extra nine species to the total.
Eight moths, two of which have only been recorded in the county once before - Calamotropha paludella and Platyptilia isodactylus - were also discovered last week.
Rare breed
Doxey Marshes warden, Scott Petrek, said: "It has been an amazing week on Doxey Marshes.
"The black-necked grebe is a scarce visitor to Staffordshire and so a rare treat for nature lovers, and the moths were discovered by volunteers at our recent bat and moth night on the reserve."
Black-necked grebes are almost flightless for around nine months of the year, the longest period of any flying bird. Flying is usually avoided at all costs yet, even so, they manage mammoth migrations to and from their breeding grounds each year.
Back in May, the nature reserve was visited by a spoonbill. The species had not been seen in Staffordshire for a number of years.