Fewer cuts agreed for Stoke-on-Trent children's centres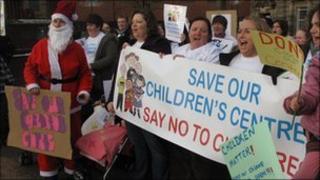 Cuts to funding for children's centres in Stoke-on-Trent have been scaled back from 30% to 20%.
The city council had originally planned savings of £2.25m, but after a six-week consultation, has settled for cuts amounting to £1.5m.
But 11 teaching jobs will still go, and there could be charges for some classes.
The revised plans for the city's 16 children's centres are expected to be approved at a meeting next Thursday.
The recommendations should also mean that there will not be drastic cuts to opening hours.
Other changes include the outsourcing of some centre cafes to voluntary organisations.
Public opposition
Debra Gratton, cabinet member for children's services and life skills, said: "There will be less changes affecting the children's centres as a result of the consultation.
"I listened very closely to all the parents, children and grandparents.
"We want to protect our most vulnerable and we want to continue the services to them the best as we can."
Back in February, it was announced seven children's centres in Stoke-on-Trent had been saved from closure at the expense of libraries, care homes and a swimming pool.
The city council changed its mind about the children's centre closures after public opposition.
But Melissa Beydilli from Blurton, one of the campaigners who fought to save them, says she is still concerned about their future.
"I worry that pretty soon we'll soon be going into a new budget discussion," said Mrs Beydilli.
"But will the children's centres be able to get through the next big blow?"
Government funding cuts have forced the city council to shave £36m from its budget across all its services for the current financial year.