Blackbrook Zoo faces bright future after public support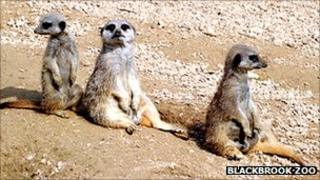 The outlook for a north Staffordshire zoo is looking brighter after a successful appeal to raise £75,000.
Blackbrook Zoological Park had been threatened by closure, but public donations and business backing have secured its immediate future.
Debbie Hughes, the zoo's general manager, said she was "overwhelmed" by the response of the public.
The attraction in Winkhill, near Leek, had seen its revenue fall during the recent economic downturn.
Managed by a charitable trust, its annual operational costs were in the region of £250,000. Last year, takings were £175,000 - leaving a £75,000 shortfall.
But a fund-raising appeal, which started earlier this summer, has led to an improvement in the zoo's finances.
Visitor numbers are up and the zoo is less reliant on external funding. Adoption of animals has soared too - with meerkats and penguins proving to be the most popular.
20th birthday
"It's just so difficult to get funding for anything now," said Ms Hughes.
"It felt that every avenue of funding we explored proved to be a dead end.
"So many people heard the story about how we were struggling and said they didn't know things were so bad.
"But the amount of mail we've had with cheques in has been overwhelming."
The 30-acre site celebrated its 20th birthday this year.