Samuel Parkes honoured with Crimean War memorial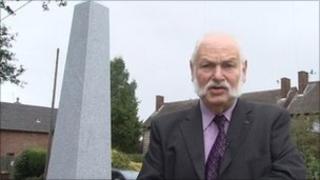 A memorial honouring a man who saved the lives of two comrades during the Charge of the Light Brigade has been dedicated by the Countess of Wessex.
Villagers raised £14,000 for an obelisk in Wigginton, Staffordshire, to remember Samuel Parkes' actions in 1854 and others who fought.
The soldier from the 4th Light Dragoons was awarded the Victoria Cross for bravery in the Crimean War battle.
The countess dedicated the obelisk on a visit to the county on Wednesday.
The Staffordshire soldier, who later joined the police, died at the age of 49.
Great, great, great nephew Peter Elkin has researched the history of his relative and has his sabre.
Mr Elkin said: "From being the forgotten man, now we've got him well and truly remembered.
"He's going to be remembered and honoured now for all time thanks to this monument."
The countess went to the National Memorial Arboretum and also attended Drayton Manor Theme Park as part of her visit to Staffordshire.