Residents in bid for alley gates to tackle bad behaviour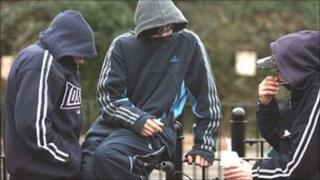 Some residents in Stoke-on-Trent are calling for alley gates to be installed to help tackle anti-social behaviour.
More than 100 people have signed a petition calling on the council to shut a path in Sneyd Green, between Dairyfields Way and Brianson Avenue.
Lisa Meredith, a resident leading the campaign, said the gates would "take away yobs", as the current situation was "unacceptable".
The city council said it would send an inspector to assess the situation.
Ms Meredith said the problem had been going on since before she moved into the area in 1998.
"It's noise, it's litter, we've had needles, we've had glass, we've had dog mess," she said.
"Gates will take away yobs and the anti-social behaviour, because if we lock the gates at 10 o'clock at night, they'll have to find somewhere else to go."
Four week consultation
Another resident, Marie Cheetham, said: "Sometimes you daren't come out to tell the youths because you know you'll get abuse."
Stoke-on-Trent City Council said it promoted the use of gates and it had already installed more than 80 sets of gates across the city.
"I am aware they have been having problems," said Gwen Hassell, cabinet member for housing and neighbourhoods.
Ms Hassell said the council had already offered to put in prickly shrubs to help stop anti-social behaviour, but residents had turned that proposal down.
She confirmed that a council inspector would soon be visiting the area, and if gates were judged to be "needed and necessary", that would trigger a four week consultation period with local residents.