Motorbike ride collects pet food for animal charities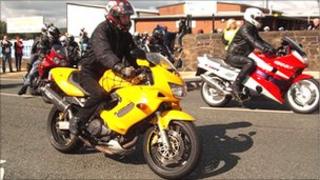 About 2,000 motorcyclists took to the streets of Stoke-on-Trent for the 22nd annual Pet Food Cavalcade.
The bikers left the home of Port Vale Football Club at 12:00 BST on Sunday, following a circular route around the city, collecting donations of pet food for animal charities.
Sidney Rogers, who founded the charity ride, said this year's event was "perhaps the most successful ever".
The RSPCA and Cats Protection League (CPL) are the major beneficiaries.
Mr Rogers, 71, from Trentham, said that he "feared for the worst" when he rode to the start of the race in the morning.
"It was raining so hard and there were tears - both real and metaphorical - in my eyes.
"Last year's event suffered a lot with the weather and this year's forecast wasn't looking great.
"But after I arrived, the sun came out and we suddenly had a surge of bikers."
'Fantastic response'
The charity ride started in 1990. Mr Rogers said he had always been an animal lover, and in the early days of fundraising to help animal charities, he used to run marathons with his pet dog.
But carrying a collection bucket proved to be awkward and he was often disappointed with the amount of money he had raised.
So the idea of the motorcycle run was born - bikers pay £3 to take part and collect tins of dog and cat food from the members of the public.
Sue Bourne, from the CPL, said: "It was a fantastic response from local people. Some were even coming to the gates to give us money.
"And we also raised over £750 in the auction and raffle after the race."
The money and food is distributed to the RSPCA, CPL and other animal charities.
"I think that this year has probably been the most successful ever," added Mr Rogers.
"It's marvellous to put something back into the community where I've lived all my life."