Staffordshire woman recuperating from op to unbend leg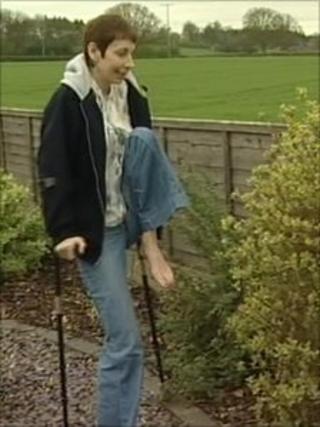 "Surgery was a big gamble and no-one knew whether the dystonia would spread or not," said Jo Day.
For the 37-year-old, from a village in Staffordshire, the possibility of improved health outweighed the risks of the nine-hour surgery.
Miss Day has an incurable neurological movement disorder called dystonia that she believes was triggered by a roller skating injury to her elbow as a teenager.
It is not known what causes the disorder although it is thought to affect at least 40,000 people in the UK, forcing muscles to contract producing abnormal body postures, the Brain Research Trust said.
'Life begins'
In Miss Day's case, her left leg has been bent into her chest for the past four years, forcing her to walk on one leg with the aid of crutches.
Following an operation in June to unbend the leg she has been recuperating at home in Weston-under-Lizard with her assistance dog Kaiser and said: "Touch wood, everything's gone away and life begins again."
When BBC reporters visited her earlier this week she was driving herself across a park in an adapted wheelchair with Kaiser in tow.
She said: "It's fantastic to have the opportunity to borrow this machine for the weekend to go out and exercise.
"It's great being out here with Kaiser."
Miss Day said she hoped to be able to fund-raise to buy her own adapted wheelchair, but for now was simply enjoying the freedom of having both legs straight again.
Her mother Sue said she accepted the operation had been necessary but added it had also been a traumatic experience.
"As a mother you would rather go through it yourself than watch your child go through it," she said.
The operation at the Queen Elizabeth Hospital in Birmingham was more significant than either of them had anticipated.
Mrs Day said: "She's a brave girl.
"She doesn't complain. The only thing she kept saying while she was in hospital was 'I am sorry, I'm sorry'. I said 'what are you sorry for?'
"'Because it's my pain. It's nobody else's pain, it's mine' and that's all she said."
Both women accept it is early days in the post-operative recovery process and neither is sure how much mobility Miss Day will regain or whether the dystonia will start to affect other parts of her body.
Mrs Day said she was optimistic and added: "It's wonderful to see her with her legs down.
"It's wonderful to see her looking so normal.
"The strange thing is, when you are living with a disability, I don't see the disability.
"She's my daughter. You don't see what other people see. But now, it's just so fantastic to see her wearing normal clothes."