Lottery donation helps Staffordshire lifesavers buy car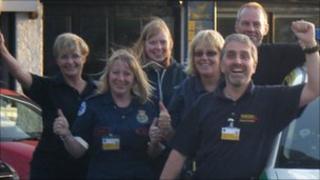 A group of volunteer first aiders in Staffordshire says a National Lottery grant could "potentially save lives".
The Gnosall and District Community First Responders have put the £10,000 award towards a new 4x4 vehicle.
It means they will soon be able to get to more emergencies in remote areas during heavy rain or snow.
Sent at the same time as an ambulance, they respond to emergencies if they reach a scene first.
Community First Responders are trained by West Midlands Ambulance Service and help it respond to emergencies in remote rural communities by giving assistance prior to the arrival of the ambulance or paramedic.
The Gnosall and District group, which currently has nine volunteers, responded to 224 emergencies last year.
Chairman Craig Singleton described the grant as "fantastic news" which would "enable us to help more people".
The groups are self-funded and Mr Singleton said they had been putting money towards a new car for a long time.
He said the first aiders had bought it at a special price thanks to a local car dealer and it would now need to be kitted out properly for their work.
The National Lottery announced the donation as part of its funding for the West Midlands region.