Bentilee Volunteers says furniture donations down 50%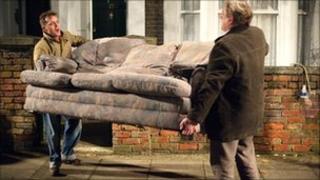 Volunteers at a charity in Stoke-on-Trent say donations are down 50% because they have had to move to make way for a new school.
Bentilee Volunteers was based at the Willfield Community Education Centre where a new academy is now being built.
One of its operations, known as The Shed, sells donated furniture to people who cannot afford to buy new.
Manager Tom Simpson said the charity was missing out on donations because people think it has closed down.
"The city council have tried to help us... I think they realise what we do offer is good for the city," said Mr Simpson.
"I think that more than anything with the council, it can be bureaucracy - trying to get through all the red tape.
"We want the best for everyone, so if it means a new academy, better things for our children, then Bentilee Volunteers has to go along with it.
"We help the communities of Stoke-on-Trent such a lot and we expect the city council to give us their continued support that we so desperately need."
'Suitable building'
The charity was forced to leave the Willfield Centre in May to make way for a merger of two former high schools into a new Discovery Academy.
Volunteers are now spread across three buildings in different parts of the city, and trying to find a new permanent home is proving to be tricky.
Stoke-on-Trent City Council said it was working hard to find a solution "which meets everyone's requirements and allows this organisation to continue its good work".
Sheila Pitt, who represents Bentilee on the city council, said she was working on a possible property in Ubberley Road.
"It has been difficult to find a suitable building that's free at the moment."
Bentilee Volunteers has been a registered charity for 21 years.
Profits from selling furniture and white goods help to fund other volunteer projects for the elderly, people with special needs and young people.