Stafford Hospital gave 'no cause for concern'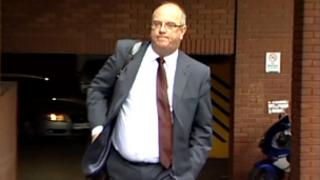 The head of the NHS has told an inquiry that Stafford Hospital gave senior health managers no cause for concern.
The public inquiry is examining the role of regulatory bodies after a Healthcare Commission report found "appalling care" was provided at the hospital between 2005 and 2008.
Sir David Nicholson said that at the time he was more concerned about problems at other hospitals.
Outside the inquiry, campaigners heckled Sir David as he arrived.
Focus on costs
The 2009 Healthcare Commission report said there had been a higher than expected number of deaths at Stafford Hospital.
Sir David was answering questions about his time overseeing the creation of the West Midlands Strategic Health Authority.
In 2005, the region's three strategic health authorities were being merged into one organisation, a process which Sir David oversaw.
The focus was on reducing costs and he said that because the Mid Staffordshire NHS Trust, which runs Stafford Hospital, had a relatively small deficit, nobody raised any concerns.
During that same period other hospitals were running with much larger deficits, Sir David said.
The University Hospital of North Staffordshire was experiencing financial difficulties which led to resignations of the entire board.
'Lot better now'
Sir David appointed Martin Yeates as chief executive of Stafford Hospital, who left his post just days before the damning Healthcare Commission's report was published in 2009.
Sir David told the inquiry that that appointment should not have happened but he was the best candidate at the time.
"You were in a position where you had very little choice when you got down to picking a chief executive," Sir David said. "It's a lot better now."
It was confirmed earlier this month that Mr Yeates will not appear at the inquiry, giving a written statement instead.