Little clay commuters fired for Stoke ceramics festival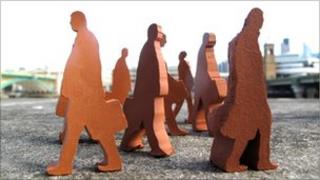 Thousands of little clay commuters have been fired as part of a major ceramics festival in Stoke-on-Trent.
The miniature figures have been created by artist Lawrence Epps to mark the British Ceramics Biennial (BCB) which opens on Friday.
An army of around 6,000 terracotta commuters has been scattered in Stoke train station and at various sites around London.
People are being encouraged to pick them up and take them home.
"They are all fired to different temperatures," said Mr Epps.
"That brings out different shades in the clay, like autumn leaves.
"My work questions our relationship with office work: how we hate it and love it at the same time, and the way we need to work.
"The scale of the art mirrors the way that sometimes, as workers, we feel dispensable.
"But if the figures help people to take a moment to think about their job, then I will feel like I've done my job."
'Quirky idea'
The BCB is held every two years in the Potteries to showcase contemporary pottery and ceramic artists.
Helen Palmer, who works for the BCB, said she hoped people would see Mr Epps' public art as more than just a marketing exercise.
"It's a quirky idea that he's had - to get people to interact with his work and to get people thinking about what is happening in their city."
The terracotta commuters will be replenished over the six-week period of the ceramics festival.
More images of the clay figures, and people's responses to them, can be seen and shared at Sykey and on Twitter #littleclaymen.
Mr Epps also has another installation, entitled Human Resources, on show at the original Spode Pottery Works in Stoke.