Wycliffe Hall Methodist Church goes up in the world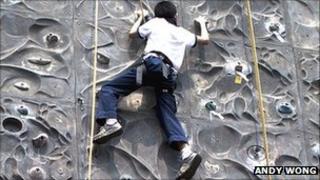 A derelict Victorian church in Stoke-on-Trent is finally going up in the world after years of neglect.
Wycliffe Hall Methodist Church in Burslem is to be transformed into an indoor climbing centre.
The hall's revamp is part of European funding to renovate historic buildings in the city's 'Mother Town'.
It was built in 1885, but closed for worship in 1916 - although it continued to be used as a Sunday School for some years after.
Jin Sandhu now plans to turn it into a social enterprise, both for experienced climbing, and for local children who have never tried the sport.
He said he knew instantly that the three-storey structure would be the perfect venue.
'Moral elevation'
"We did look at your standard corrugated roof and breeze block building. It would have been considerably cheaper as well.
"But there's a certain charm about this building.
"To see the wood floors, wood panelling; to see the tiles, the inscriptions on the inside; the artwork - it just adds to the joy of indoor climbing."
On one of the church walls, a notice reads: "these buildings were erected for the worship of God, the education of the young and the moral elevation of men".
"After we saw this, we knew this had to be the building," added Mr Sandhu.