Man, 92, buys digger to landscape garden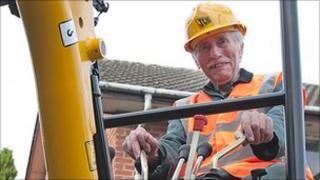 A 92-year-old man has bought a digger to landscape his garden.
After retiring, George Evans bought some land in Frankley in Birmingham and built his home. He said he now planned to work on his garden.
JCB, the firm Mr Evans purchased the digger from, said the grandfather-of-two was their oldest customer.
"I don't smoke and I only drink the occasional glass of lager on special occasions - it's the outdoor life that I love," Mr Evans said.
"I built the house from scratch completely on my own," he added.
"I never had a labourer and managed without scaffolding.
"I put the plumbing in, and the central heating, and I did the plastering.
"I've got all sorts of bricks and boulders which I need to move, and these days I need a bit of help with the lifting.
"Landscaping the garden is the latest example of the way I like to do things myself."