Stafford Hospital failings had 'big effect' on NHS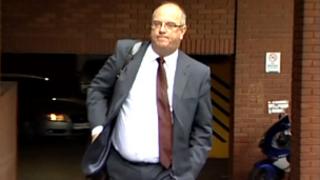 The head of the NHS says many lessons have been learned following failings at Stafford Hospital which had a "profound effect" on the system.
Giving evidence at a public inquiry, Sir David Nicholson said he accepted that there were still issues about improving safety within the NHS.
The inquiry is examining the role of regulatory bodies after a report found "appalling care" was provided at the hospital between 2005 and 2008.
Sir David also appeared on Tuesday.
On Wednesday, he spoke mainly about his role as chief executive of the NHS.
'Did not realise'
He told the inquiry that "hardly a day goes by" when the problems at Stafford Hospital are not discussed.
A 2009 Healthcare Commission report said there had been a higher than expected number of deaths at the hospital.
As a result, Sir David said the Department of Health had set up a unit to look at how the recommendations of the public inquiry could be implemented.
He said that his first reaction to the release of the Healthcare Commission report was to find out what was going on at the trust as he did not realise how bad things were.
The inquiry discussed the tenure of Martin Yeates as the hospital's chief executive, who left left his post just days before the damning report in 2009.
'Offered a loan'
As part of his role, he was responsible for trying to push through cost-cutting measures which campaigners maintain contributed to what happened.
He is too ill to attend the inquiry but part of his statement was read out on Wednesday.
In it he said he anticipated that the report would be highly critical and that he spoke to Sir David about his intention to resign.
Sir David told the hearing that he did not remember that happening.
Mr Yeates also said in his statement that he was given a deadline to sort out financial problems within the trust and also told by the Strategic Health Authority, which Sir David helped create, that he could not have any more time.
Sir David said the trust was offered a loan of £1m to allow it some breathing space but Mr Yeates turned it down.
The hearing continues.