Two hurt in explosions near Crewe railway station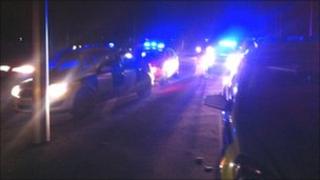 A man and a woman were taken to hospital with burns after a series of explosions near Crewe railway station blew manhole covers off.
The explosions on Nantwich Road may have been caused by a fault in underground electric cables, said investigators.
Scottish Power said a fault occurred at 20:00 BST on Wednesday and about 3,000 properties nearby lost power.
The station was closed for nearly an hour before police gave the all clear.
Nantwich Road and nearby Gresty Road, which were closed following the explosions, reopened at about 23:30 BST.
'It's not safe'
The vast majority of properties had power restored by 22:00 BST, Scottish Power said.
North West Ambulance Service said the injured man and woman were being treated for minor arm and facial injuries at Crewe Hospital.
Cheshire & Rescue Service said: "We soon found out a likely cause had been an electrical fault alongside the footpath alongside Nantwich Road."
Scottish Power said initial indications suggested the fault occurred on an underground cable and engineers were "investigating the exact cause and nature of the fault".
Michaela Grierson, who was one of the rail passengers affected, said: "They just said the train's going to be delayed because no trains are allowed through Crewe because apparently there's been a gas explosion.
"They didn't say it was, but they just said apparently it was."
Taxi driver Abdus Sabbad said: "The police says just turn around, it's a big explosion, electric or gas, some kind of explosion, it's not safe for you."