Former post office reopens as retail training centre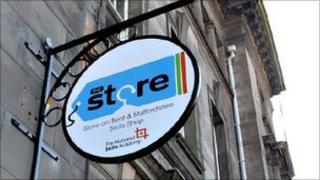 A new centre has opened in Stoke-on-Trent to train people for jobs in the retail industry.
The Store has been set up in what used to be Hanley Post Office. The Grade II-listed building had been closed for around four years.
It is one of only 50 facilities across the country which are part of the National Skills Academy for Retail.
The scheme is supported by retail expert Mary Portas and Theo Paphitis, from the BBC Dragons' Den programme.
Ms Portas has developed courses for The Store, which will provide practical advice and training masterclasses.
Councillor Mark Meredith, cabinet member for economic development, said: "It's great that an empty building is coming back into use at the heart of the city centre.
"It's great news for a city which is developing and where the amount of retail space is probably going to double over the next decade."
A £14m expansion of the Potteries Shopping Centre has recently been announced for Stoke-on-Trent city centre, along with a £350 million City Sentral shopping development, due to open in 2015.