Stoke pupils ranked bottom in key stage results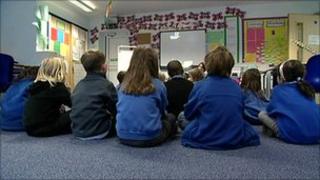 Young children in Stoke-on-Trent have recorded the worst school results in England, according to latest figures.
Children in the city were ranked bottom for their combined assessments in reading, writing, maths and science.
The Department for Education (DfE) figures also revealed seven-year-olds in Stoke rated lowest in the individual subjects reading and maths.
The key stage statistics are based on teachers' assessments of pupils' achievements.
Schools Minister Nick Gibb said: "The figures for Stoke-on-Trent are poor, significantly poorer than some other local authorities.
"They do need to really look at how the primary schools in that area are teaching children to read.
"And the notion that a child from a poor family is somehow not expected to reach those levels is unacceptable."
Labour councillor Debra Gratton, a city council cabinet member for children's services and life skills, described the news as "disappointing" and said improving standards would be "a long, hard slog".
Added pressure
More than 2,800 seven-year-olds were assessed in Stoke-on-Trent.
Almost 800 of those children had the writing age of a five-year-old and 650 had the reading age of no more than five.
That means, according to officials from the DfE, they can only read simple, familiar words.
Ms Gratton said: "We knew we had an issue here and we know we have work to do."
She defended criticism of the Labour-controlled council and said legislation changes over the last 12 months had placed added pressure on schools and the city's education authority.
She said: "We've had programmes like Stoke Speaks Out, which has been nationally acclaimed, to actually raise the attainment and help young people with speech difficulties.
"It's a partnership. We all have to work together. We obviously need parents, carers, extended families to do a lot more, with us.
"For instance reading with their children when you go home after school, getting them to do their homework. it all helps."
Tristram Hunt, the Labour MP for Stoke-on-Trent Central, agreed with the city council that it needed help from parents.
"You can only do so much at school, and if we're not doing the right things in school, that absolutely has to be addressed.
"But also, you've had a long day at work, you're tired, but you still need to make that time for reading with your kids at bedtime."