Talke mining deaths research prompts memorial call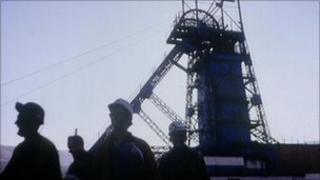 People living in Staffordshire, are being asked to support plans for a memorial to recognise a village's tragic mining history.
In a nine-year period between 1866 and 1875, 146 people were killed at two pits in Talke.
Andy Dean, from Alsager, who has conducted research into the incidents, said he would like to see a memorial for the men who lost theirs lives.
A meeting next week will discuss what form it could take and at what cost.
Mr Dean said through his research, he realised that not much information about the men who died was available.
"When I was doing some research in the area locally... it was fairly obvious that a lot of people had died in the mines in Talke, which is relatively a small village but, there was not much information available about those people.
"There was one big disaster in Talke in 1866 where 96 people died but, then over a period into the early 1900s, we've probably had nearly 200 miners killed in that period of 50 or 60 years and nothing really visible to say that industry existed - 200 miners lost their lives simply earning a living."
Two fatal mining incidents have occurred recently in the UK.
Last month, four men died at Gleision Colliery near Cilybebyll, Pontardawe, when a shaft flooded.
An investigation is now under way at another pit in North Yorkshire after a after a roof collapsed killing one man and injuring another.
The UK's worst mining disaster happened in Senghenydd, Glamorgan in 1913 when 439 men and boys perished in a gas explosion.
'Very early stages'
During his research in Talke, Mr Dean said he discovered that two family members were involved in a mining incident at Bunker Hill, near the A34 in Staffordshire, in 1875 where 42 people lost their lives.
"Two of which were my great, great, grandfather, who was only 37 at the time, and his 14-year-old son Thomas - that kind of brings it home to you," he added.
He has helped arrange a public meeting on 14 October at Talke Pits Village Hall to establish Friends of Talke, the group set up to look into plans for a memorial before approaching Newcastle Borough Council.
"It's very early stages," he said.
"We don't know where we will be allowed to put it.
"We don't know what form it will take, we don't know how much money we will be able to raise, because that always going to be a biggie for us.
"But please come along and we can take it from there."