Michelin in apprenticeship open day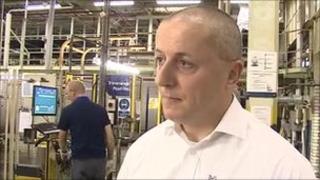 Tyre giant Michelin has been holding an open day to encourage young people to become apprentices.
The government hopes that by getting more young people to take up careers in engineering it will help re-balance the economy in favour of manufacturing.
The Michelin factory in Stoke-on-Trent is taking part in the government-backed See Inside Manufacturing scheme with school children from the city.
It said it had been hard to encourage young people to take part.
Pupils and students from five Stoke-based schools and colleges visited the site on Campbell Road on Tuesday. A second open day is planned on Thursday.
The open day was the first of several events across the West Midlands to highlight engineering apprenticeships, including ones at JLR and Aston Martin.
The See Inside Manufacturing initiative was launched in March by Business Secretary Vince Cable and aims to create up to 250,000 apprenticeships in the UK.
The automotive sector is the first industry to support the nationwide project.
Sean Parry, Michelin factory manager, said he thought it was hard to persuade people to try engineering because of a "lack of understanding" about the industry.
"People have an image of the industry that's based on the 1970s," he said.
"We now have high-tech equipment, highly skilled employees making decisions on a minute-by-minute basis based on the product and we're upskilling people and putting in new machinery.
"So, I think it's based on the wrong image and we're trying to show them what range of opportunities there are within manufacturing.
"Because it's not just the shop floor, there's all the support services but the shops floor is still part of it but engineering is the biggest part of it.
"We take engineering apprentices because it gives us an opportunity to train them.
"They get the Michelin training so we know they're qualified at the end of it."
Michelin takes on about two apprentices a year.
Engineering apprentice Ross Evans said: "I'm a very hands on person.
"I've got a strong opinion in engineering.
"Manufacturing apprenticeships seem to be the way forward."