Stafford's £70m redevelopment plans to go on display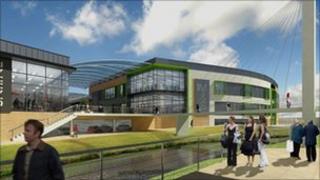 Plans for a £70m redevelopment of Stafford town centre go on display on Friday.
They include a supermarket on North Walls car park at Kingsmead, and new shops at the former Bridge Street car park and Riverside Recreation Centre.
Developer LXB Retail Properties plc said it was in negotiations with Marks and Spencer and Morrisons.
It said it hoped to submit a planning application next month, following a public consultation.
Stafford borough councillor Frances Beatty, cabinet member for planning and regeneration, said it would bring "long-awaited improvements to the county town".
"This will bring more shops, more choice and more footfall which will spill off to other retail outlets and businesses," she added.
The council said the project could create as many as 650 jobs in the town.
If approved, work could start on the development in 2012.
The plans will be on display at the Gatehouse Theatre in the town on Friday and Saturday.