Fly-past as National Memorial Arboretum unveils memorial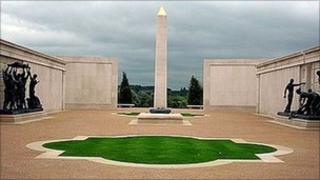 A fly-past of military transport aircraft is to take place at the National Memorial Arboretum as a new memorial is unveiled later.
The memorial commemorates crews killed in action or in the course of duty.
Built with white Portland stone, the monument is designed to mirror the armed forces memorial in the arboretum.
The fly-past at the Staffordshire site, at 14:30 BST, will include a C17 Globemaster, a C130 Hercules and a Chinook helicopter.
At a service before the fly-past, retired Sqn Ldr Brian Jopling, a recipient of the Queen's Gallantry Medal, will read out the names of association members who have been killed while in service.
The memorial was paid for by donations from the Air Loadmasters Association.
It is one of 200 memorials at the arboretum dedicated to the memory of people who have served their country.
More than 300,000 people visit the site every year.