Stafford and Stone Canoe Club unveils its £560,000 clubhouse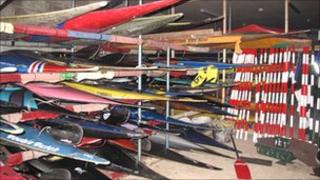 One of the most successful sports clubs in Staffordshire has unveiled its new £560,000 clubhouse.
Stafford and Stone Canoe Club has produced numerous gold medallists, national champions and Olympians over more than 30 years.
Built on their Westbridge Park site, the clubhouse is named after former member Donald Bean.
Club chairman Philip Gooding said the building was a major upgrade on what they had before.
"We are the Manchester United of the canoe slalom world," he said.
"We've got a brand new facility that meets the needs of the current generation."
Old wooden clubhouse
Part of the funding came from the family of Ruth Holdway, a former club coach who died on a walking holiday two years ago.
Her brother and club secretary, Rob Holdway, said: "She was a key member of the club.
"She was an enthusiast who just gave huge amounts of time to run amateur clubs.
"I think she'd be really pleased, that in her name, we've been able to complete a project like this."
The brick construction means that members can now train throughout the winter. The old wooden clubhouse, which was first built in 1983, had no showers and could not be heated.