Foxlowe Hotel in Leek to become a community arts centre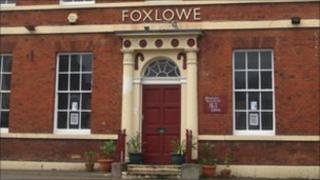 A Grade II listed building in the Staffordshire Moorlands will be turned into an arts centre after a 13 month lease was signed on the property.
Campaigners hope the former Foxlowe Hotel on Market Place, Leek, could open as the Foxlowe Arts Centre in November.
Peter Kent-Baguley from the company behind the project said their plans included a cafe, a cinema, an area for concerts and gigs and an art gallery.
He said the lease cost £36,000 and fundraising would be "a tightrope".
"It's to provide a stimulating and relaxing and welcoming environment for all the people of Leek and... I hope beyond Leek," he said.
The building is in a prominent position in the centre of Leek and for many years it was used as the headquarters of the Federation of Textile Unions.
Mr Kent-Baguley, a trustee with Foxlowe Arts Centre Limited, said lots of people had volunteered to help decorate the arts centre.
He added that 250 people had signed up to donate £2 a week towards the project, with a number of one-off donations including one payment of £10,000.