Newcastle addiction rehab centre's 'high success rate'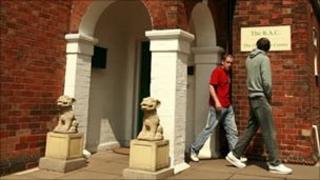 A Staffordshire drug and alcohol addiction rehabilitation centre says it is enjoying a very high success rate.
The 18-week residential course at the BAC O'Connor centre in Newcastle-under-Lyme is based on abstinence from all dugs, including stabilisers commonly used in rehabilitation, like methadone.
The centre's figures show 74% of drug users and 83% of alcoholics are clean two years after completing the course.
The national average for recovery is under 30% six years after treatment.
Noreen Oliver, chief executive of the centre, said although the figures were not like-for-like, they indicated the centre's treatments were working well.
'Highly unusual'
She said: "The first 12 months are the hardest but most people who have gone through our treatment are quite stable by then.
"The reason we - and many other rehab centres - offer a two-year aftercare programme is that they're stable and contributing to society again by then.
"It would be highly unusual to spend a year or two drug-free and then go back to drugs."
Ms Oliver said she had set up the centre following her own experiences tackling alcohol addiction.
The original Burton Addiction Centre was founded in 1998 and the BAC O'Connor centre in Newcastle-under-Lyme opened two years ago. Since then, more than 2,000 people have completed the programme.
The latest official statistics for England, released on 17 October by the National Treatment Agency for Substance Misuse, show the number of illegal drug users recovering from addiction has risen significantly in the last year.
The Drug Treatment and Recovery 2010-11 report shows 28% of individuals who have started a programme since April 2005 successfully completed and did not need further treatment.
Paul Hayes, NTA chief executive, said: "Addiction remains a serious problem for many communities, and we need to remain vigilant, particularly in a tough economic climate.
"But the figures show that recovery is now becoming a reality for more individuals each year."