Staffordshire Hoard exhibition boost with heritage cash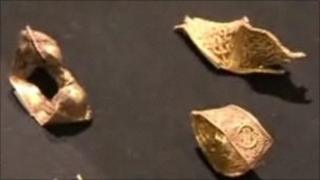 A museum said a £40,000 grant meant it would be able to stage its 'largest ever' exhibition about the Staffordshire Hoard.
The Potteries Museum and Art Gallery in Stoke-on-Trent has been awarded the money from the Heritage Lottery Fund.
It will fund a new exhibition about the Anglo-Saxon gold and silver from next July.
The treasure was discovered by a metal detector enthusiast in a Staffordshire field in 2009.
'Fabulous news'
The museum, along with Birmingham Museum and Art Gallery, already has artefacts from the hoard on display but said the money would be used to create a gallery to show it in the context of the wider Anglo-Saxon period.
Councillor Mark Meredith, Stoke-on-Trent City Council cabinet member for economic development, said the grant was "fabulous news".
"The money will be used to put on our largest ever exhibition of the Staffordshire Hoard, and to create a spectacular setting and display for this unparalleled treasure.
"The hoard has tremendous economic opportunities for the city and the surrounding area, and we want to ensure these opportunities are fully maximised," he added.
Stoke-on-Trent City Council said so far more than half a million people had seen the treasure at the museums and on a regional tour.
Anne Jenkins, head of the Heritage Lottery Fund in the West Midlands, said: "The Staffordshire Hoard has captured the imagination of so many people locally, nationally and worldwide that it deserves to be displayed in a high quality exhibition."