National Memorial Arboretum to get £3m boost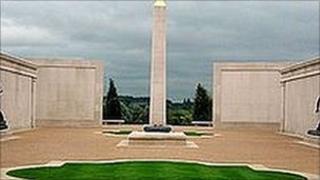 A national centre of remembrance in Staffordshire has received a funding pledge of £3m.
Staffordshire County Council will invest £500,000 a year for the next six years in developing the National Memorial Arboretum, near Lichfield.
The council's cabinet has approved the plans to help expand the facilities at the site.
Memorial site managers want to develop a remembrance learning centre, a veterans' pavilion and a square.
Following an increase in visitors to the site, an appeal was launched by the Duke of Cambridge in April 2009 for £8m of funding to improve facilities.
The aim is to make the National Memorial Arboretum a "world class" centre of remembrance.
'Fantastic news'
Ben Adams, the council's cabinet member for economic growth and enterprise, said it was an investment in Staffordshire's national and international reputation.
"The National Memorial Arboretum is at the heart of our collective sense of identity," he said.
"It is a symbol of remembrance for the sacrifices that past and present generations make to protect our freedom and prosperity. We know this will continue to be a symbolic place to learn, remember and celebrate."
He added that the site was currently attracting 300,000 visitors a year.
Maj Gen Patrick Cordingley, chairman of the appeal, said: "This generous support from Staffordshire County Council will give our plans to create a national centre for remembrance an enormous boost.
"It is fantastic news for the county, its residents and the country as a whole."