Jesse Shirley pottery company ceases trading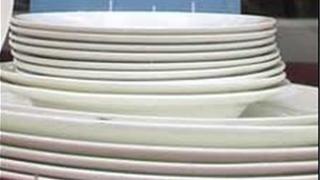 A Stoke-on-Trent pottery firm has ceased trading with the loss of 27 jobs.
Jesse Shirley is due to appoint administrators this week. The firm made raw materials for the manufacture of bone china and other tableware.
The company, which was founded in 1820, nearly folded two years ago when one of its biggest customers, Wedgewood, also went into administration.
But the firm was saved by a management buy-out.
It was bought by a group of its Egyptian suppliers who joined forces and formed a parent company called Hajco 377 Ltd.
Raw material shortages
In a statement, managing director Mike Shirley, a descendent of the company founder, said the company's losses forced those in charge to make the "devastating decision".
He said: "It's mainly due to raw material shortages, a large increase in the cost of the raw material bone and fuel inflation, that we've been making losses over the last year.
"The board has had to look at the profits and revenue of the business, and the shareholders were unable to cover those losses."
He added: "There was the right spirit and attitude from investors and there was business out in China but increasing costs of the raw material have forced this decision.
"I'm sorry for everyone concerned. The suppliers, operatives and managers have all been equally affected by this."