Stoke-on-Trent couple describe Spanish market floods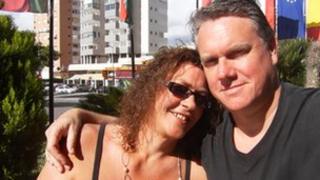 A Staffordshire couple have described the moment flash floods swept through a market in Spain, killing a husband and wife from Merseyside.
Kenneth and Mary Hall, from Bootle, were killed in flood waters at a street market in Finestrat, on the Costa Blanca, on 21 October.
Andrea and Paul Dawson, from Blythe Bridge, were in the market when water surged through the narrow street.
Andrea Dawson, 48, said it was "a wonder" other people were not killed.
"There hadn't been any warning whatsoever.
"Two minutes before, we were looking around the market, buying leather belts and things.
"The next thing you knew, rain was up to your knees and you were fighting for your safety," she said.
It was the last day of Paul and Andrea Dawson's week-long holiday and they had intended to have a quiet lunch by the sea and buy a few gifts for their three children back home.
'Torrential rain'
Heavy rain had been falling inland, but Ms Dawson said there had been little sign of that on the coast at Finestrat, near Benidorm.
She said "filthy" water seemed to sweep through the ravine in which the market was held, just minutes after rain started to fall.
"It was absolutely torrential rain and everyone's instinct was to huddle under the market stall covers
"People from the top end started running down, but because it happened so quick, other people weren't moving.
"The main danger was the speed of the water, people were tripping over things under the water and people's clothes were ripped on poles from the stalls.
"There was a real mix of people, toddlers in pushchairs, old people on walking sticks. Cars were half covered by water."
She said that after they had found a safe place her husband Paul, 47, tried to get back into the market to help others, but was stopped from entering the street.
"The amazing thing was in the afternoon the weather cleared up and it was blue skies. It's such a pretty little place you can't imagine what happened."
The following day, the Staffordshire couple flew back into East Midlands airport.
They said they were greeted by a flurry of missed calls, when they turned their mobile phones on, from worried family members.