Staffordshire bookseller's novel way to trade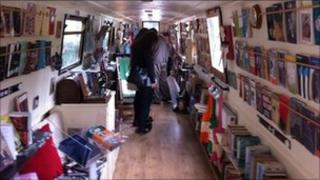 It is hard to put a price on the value of a good book, but one Staffordshire bookseller has traded her wares for everything from shoes to a haircut.
Sarah Henshaw, from Lichfield, took to the water on her converted narrowboat to promote independent booksellers.
The 28-year-old travelled 1,000 miles through 700 locks on The Book Barge over six months.
Miss Henshaw and her shop have now returned to the barge's permanent mooring in Barton Marina.
The former journalist opened her bookshop in 2009 when she moved back to Staffordshire after spending several years working in London.
Not a hairdresser
Earlier this year she decided to embark on her trip to encourage people to support independent booksellers.
"The last few years have seen a huge decline in the number of non-chain retailers in the wake of massive discounting trends by supermarkets and online stores," she said.
At the start of May she set off on her voyage travelling along the canals of England and Wales and calling in at various towns and cities along the way including Birmingham, Stratford-upon-Avon, Oxford, London, Bath, Bristol, Gloucester, Worcester, Llangollen, Manchester, Skipton, Leeds and Nottingham.
For most of the journey she travelled alone but was joined occasionally by friends who offered to help out.
She said: "We've visited as many cities, towns and villages as we could in six months, teaming up with local bookshops en route for joint events and, for the whole journey, living almost entirely off our books."
But not everyone who visited the shop chose to buy a book and it was when people told her they could buy books cheaper online that Miss Henshaw decided to give customers the option to trade for her stock.
She said: "I traded for a haircut, shoes, food - anything that ran out or that I wanted.
"I got the haircut in London. I didn't know the woman offering it wasn't a hairdresser until she was half way through. It ended up looking quite severe."
As the barge has been completely converted into a bookshop she even traded for somewhere to sleep overnight to save spending money on staying in bed and breakfasts.
She said she felt the trip had done a "brilliant" job of promoting booksellers but it was difficult financially, particularly if she faced a long journey between destinations as she did not make any money when she was travelling.
But despite the problems she faced it has not put her off returning to a life on the road - or canal.
"I'd love to do it again. I wouldn't mind trying it in Europe if I can find out how to get a canal boat over there," she said.
The Book Barge will reopen at the marina on 5 November.