M6 closes between junctions 12 and 13 after lorry crash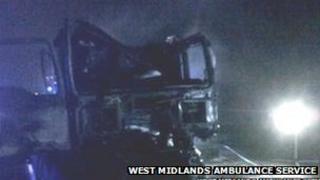 The M6 in Staffordshire had to close both ways between junctions 12 and 13 after a lorry and a car crashed.
West Midlands Ambulance Service was called to the scene at about 17:35 GMT on Monday to reports that an HGV had jack-knifed and caught fire.
The drivers of the lorry and the car were both injured.
The section of motorway and the northbound entry slip road at junction 12 reopened at about 03:00 GMT.
An ambulance service spokesman said the lorry, which was travelling north, hit the central reservation causing the cab and trailer to separate with the trailer ending up on the southbound carriageway across all three lanes and the cab bursting into flames.
He said: "The lorry driver, a man of about 60 years of age, managed to get out before it caught fire.
"He had a leg injury and was taken to Walsall Manor Hospital."
He added the car, which was travelling south, hit the barrier next to the trailer.
"A man in his 30s was trapped for 40 minutes but wasn't seriously injured," he said.
He was also taken to Walsall Manor Hospital.
The spokesman said: "Considering the fact that a container has ended up straddling all three lanes of one of Britain's busiest motorways, it is a minor miracle that no-one has been seriously hurt."