Unison responds to Stafford Hospital A&E closure plans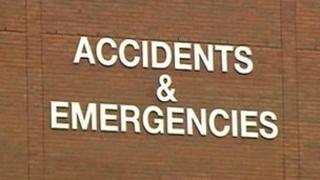 Staff at Stafford Hospital are angry at plans to close accident and emergency (A&E) at night, a union has said.
On Thursday Mid Staffordshire NHS Foundation Trust approved a three-month closure of A&E from 22:00 until 08:00.
Ray Salmon, from the Unison trade union, said the move would "compromise patient safety".
Trust chief executive Lynn Hill-Tout said the closure would allow resources to be focused on the daytime and would improve "quality of care".
She added that the three-month overnight closure, due to start on 1 December, would also allow a period for "intense staff development".
Unison represents staff at the hospital and at West Midlands Ambulance Service.
Mr Salmon said the union would be making representations to the Department of Health, regulators and local councils' scrutiny committees.
"[Staff] are very hurt at the moment, very angry," he said.
"We're going to do what we can to see if we can keep the A&E department open because we don't believe they will sort it out in three months," he added.
'Finely balanced'
Last month the A&E unit at Stafford Hospital was issued with a formal warning after inspectors found a lack of suitably qualified or trained nursing staff on duty during an unannounced visit.
Ms Hill-Tout said the warning had come as a surprise because A&E was regularly discussed with the Care Quality Commission (CQC), the primary care trust and the strategic health authority.
After a follow-up inspection, the CQC said it only had moderate concerns about the department.
Mr Salmon described A&E provision across the West Midlands as "finely balanced".
He said Stafford's closure would put "tremendous pressure" on neighbouring hospitals such as Stoke, Wolverhampton, Burton and Walsall.
Mid Staffordshire NHS Foundation Trust estimated an average of about 27 patients each night would have to seek help at other hospitals.
Some other trusts have announced they are putting contingency plans in place to deal with the expected increase.
Mr Salmon, however, criticised other trusts in the area and said they should have come forward to offer support to Stafford.
The hospital is at the centre of a public inquiry, after a higher than expected number of deaths from 2005 to 2008.
The chairman is expected to publish his final findings in the new year.
Ms Hill-Tout said there was a national shortage of A&E consultants and the adverse publicity had further hampered the hospital's recruitment efforts.