Hero marine at National Memorial Arboretum service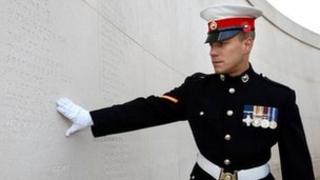 A Royal Marine awarded the George Cross for his heroism was among those at an open-air service on Remembrance Sunday at the National Memorial Arboretum.
L/Cpl Matt Croucher, 27, threw himself on a grenade to save the lives of three servicemen in Afghanistan in 2008.
He was making his first visit to the site at Alrewas, Staffordshire, since the name of fallen Marine Jonathan Crookes, a friend, was inscribed there.
The service was attended by hundreds of people.
L/Cpl Croucher survived the incident in February 2008 because his rucksack and body armour took the force of the blast.
The soldier, who grew up in Acocks Green, Birmingham, was part of a reconnaissance troop in Helmand Province.
'Long way'
He said: "We all take our freedom for granted and it's very nice for the nation to take time to think and reflect about the sacrifice people make for the freedom that they have.
"The British military don't ask for a lot and a bit of gratitude goes a long way for people like myself and those currently serving abroad."
Marine Crookes, from Halesowen, West Midlands, was killed in an explosion in Afghanistan in July 2010 while serving with 40 Commando Royal Marines.
His name has been inscribed on the site's national Armed Forces Memorial.
Book written
Those gathered at the arboretum on Sunday included ex-serviceman Carl Heywood, who had trekked about 35 miles to Alrewas from Stoke-on-Trent over two days to raise funds for Help for Heroes.
The former paratrooper, who served between 1994 and 1997, said he had so far raised about £460, but eventually hoped to hit a target of £1,000 to help the charity.
The arboretum, which is run by The Royal British Legion, has more than 200 memorials commemorating those who gave their lives serving in different branches of the armed forces, the emergency services and other public organisations.
L/Cpl Croucher has written a book in aid of the Legion entitled 90 Years of Heroes.