Strikes by public sector workers hits Staffordshire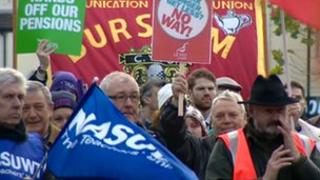 Thousands of workers across Staffordshire have been taking part in the biggest public sector strike in a generation.
In Stoke-on-Trent, Staffordshire and Cheshire East, 246 schools out of a total of 625 were shut.
Local police and ambulance staff urged the public to use the 999 service sparingly.
Staffordshire Fire and Rescue Service said its emergency response would not be affected.
However, the service said a number of its support staff were members of unions and were potentially taking part in action. It warned there could be an impact on some aspects of its work.
'Pensioner poverty'
Up to 900 Staffordshire Police support staff were expected to take industrial action. The force said officers would perform those roles.
Demonstrations took place at Stoke's Civic Centre, Municipal Square in Crewe and in Stafford from noon.
The North Staffordshire branch of the Public and Commercial Union (PCS), which represents civil servants, is appealing for "fairness and affordability" for public sector pensions.
"The real gilded pensions are to be found in boardrooms," said Peter Rofe from PCS.
"We need to tackle the whole issue of pensioner poverty not tax public sector workers for a crisis caused by the financial sector."
The government has accused union leaders of wanting to "wreck" economic recovery and cause public misery.
The prime minister's official spokesman said: "The strike action will achieve nothing - it would be far better to continue with the talks."
Staffordshire Moorlands Conservative MP Karen Bradley, who sits on the Work and Pensions Select Committee, said pension reform was necessary.
She said: "In order that we can pay for those people living longer to have the good pension they deserve in retirement age, maybe they can pay a little bit more in contributions and a little bit later retirement age in line with the rest of the economy, so that we can definitely make sure you get the best pension in retirement."
Essential services were running at the University Hospital of North Staffordshire, but people have been asked not to attend accident and emergency unless their condition is severe.
Non-emergency services were disrupted, and patients affected have already been contacted.
The Royal Infirmary's fracture clinic was cancelled, there were no X-rays for GP referrals, and outpatient transport was only running for dialysis, chemotherapy and radiotherapy treatments.
West Midlands Ambulance Service said staff were dealing with 999 life-threatening emergency calls, but urged the public to dial the number as sparingly as possible.
The non-emergency patient transport service continued to provide transport to vulnerable groups such as patients undergoing renal dialysis, cancer treatments, obstetrics and palliative care.
Exception for wedding
In Stoke-on-Trent, five local centres, four libraries, three day centres and two museums were closed.
There were no cremations or burials across the city. The council said as soon as it was made aware of the strike date it stopped taking bookings for Wednesday.
A handful of council workers agreed to staff a register office wedding in Stoke-on-Trent that was booked before the strike date was announced.
The council said the couple had asked for privacy. It said there would be no picket lines outside the register office, and other staff not involved in the wedding were taking part in industrial action.
There were no waste and recycling collections in Stoke-on-Trent and the city council asked residents only to contact it in an emergency.
Day centres in Fenton, Burslem and Longton were shut along with libraries in Tunstall, Trentham, Longton and Meir.
Stafford Borough Council said household waste services would continue as normal.
All council-run leisure centres and the town's civic centre were open, but there were warnings that some services might not be available.
There were also warnings that some rubbish collections in the borough of Newcastle-under-Lyme might be affected, but the authority said leisure centres would stay open.
In the Staffordshire Moorlands, there were no burials taking place, while rubbish collections and street cleaning were also affected.