Stone's giant advent calendar unveiled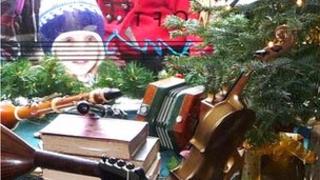 Local businesses in a Staffordshire town have turned their shop windows into a giant advent calendar to stage a Christmas countdown.
Visitors to Stone will be treated to a different festive image every day. This year's theme is Christmas Stories from Around the World.
Now in its second year, the scheme was originally the idea of Stone residents David and Pam Pott.
It is thought to be the first town in the Midlands to adopt the scheme, christened Advent Windows.
A story will be told at the unveiling of each new window. Most of the window openers will come from the country where the story originates - 14 nations will be represented at 24 shops around the town.
King Wenceslas's window was opened on 2 December by resident Hana Plant, who is originally from the Czech Republic.
'Professional storyteller'
On 19 December, Andrew Edwards will reveal a window about the Christmas truce in World War I, when German and British troops sang carols together and played football.
"We've got stories like Tolstoy, Hans Christian Andersen and from the bible, all illustrated in these 24 windows," said Mr Pott.
"My wife is a professional storyteller, so she's been training about 14 other storytellers.
"One of the loveliest features is the partnerships. Some shops do it on their own, but the majority do it in partnership with schools or other organisations in the town.
"So the whole thing has a great community feel."