Whitfield Valley Reserve swans killings case dropped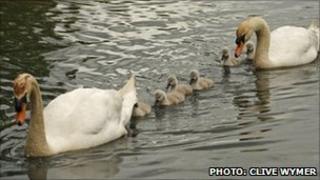 The case against a man charged with killing a family of swans has been dropped because a witness expressed reluctance at giving evidence.
Two adults and six cygnets were discovered with airgun pellet wounds at the Whitfield Valley Reserve on 14 May.
In a statement Staffordshire Police said the case was discontinued following a review of evidence.
The RSPCA said in May that several pellets were found in the adult pair of birds when their bodies were examined.
Ch Insp Adrian Roberts said: "Staffordshire Police officers, together with colleagues at the RSPCA, carried out a detailed investigation following this incident."
He said officers worked closely with the local community to identify witnesses and four men were arrested in connection with the incident.
One was subsequently charged with the killing of eight mute swans.
He added: "However, following a review of evidence by the CPS and the reluctance of a key prosecution witness to give evidence, the case was discontinued.
"At this time no new evidence regarding this incident has come to light and therefore the investigation is concluded.
"However, should any new information come to our attention it will be reviewed accordingly."