Stoke mosque fire: Simon Beech and Garreth Foster deny arson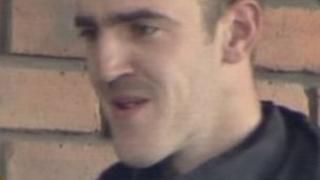 An ex-soldier from Stoke-on-Trent accused of setting fire to a mosque in the city has denied any involvement in a "revenge attack", a court heard.
Simon Beech, 23, from Hartshill, told Stoke-on-Trent Crown Court he was not responsible for the fire at Hanley's Regent Road mosque last December.
His co-accused Garreth Foster, 29, of Hartshill Road, Stoke-on-Trent, said he was fishing on the morning of the fire.
Prosecutors allege the pair reacted to Muslim extremists burning poppies.
Mr Beech, of Hilton Road, Hartshill, said a text message he sent to Mr Foster about a month before the incident asking him if he was "up for" causing an explosion was in fact in reference to a foxhole in a field near his parents' home.
Jurors earlier heard the former serviceman had also posted a message on Facebook which said: "The time has come. They burn our poppies, we burn their place. Burn the lot of them out."
Mr Beech told jurors his views were not aimed at the whole Muslim community but at extremist individuals.
Under cross-examination by prosecutor Paul Spratt, he admitted he had been in the vicinity of the mosque as smoke was seen coming from the building on 3 December last year.
"I have done nothing wrong at the end of the day," Beech told the court. "I have got my views and I aren't an arsonist.
"There was maybe a thousand other comments on Facebook, maybe more. I wasn't encouraging anybody."
Mr Foster told the court he had been fishing for brown trout beside the River Trent on the morning the mosque was set ablaze.
"I have always personally got on well with Muslims," he told the court. "Throughout all my schools I have always had Asian friends."
During their evidence, both defendants claimed to have visited the building looking for timber in the months before the blaze but denied going into the mosque on the day of the fire.
They also said they were not responsible for running a pipe into the building from a nearby gas meter.
The trial continues.