Billionaire John Caudwell may save Wedgwood collection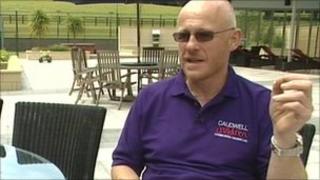 Staffordshire billionaire businessman John Caudwell has said that he might buy the historic Wedgwood collection to save it from being broken up.
It comes after a High Court ruling on Monday said it could be sold to help pay off a £134m pension fund deficit.
The pension black hole dates from when Waterford Wedgwood, based in Stoke-on-Trent, collapsed into administration.
The collection, worth £11m to £18m, features art and ceramic treasures spanning over 250 years of history.
Mr Caudwell, who made his fortune through mobile phones, described the court's decision as "grossly unfair".
'Important history'
"I passionately believe that the collection should remain intact and in place, and available for public viewing," said Mr Caudwell.
"If the trustees don't find any other way of solving the issue, then I will attempt to buy the entire collection and keep it in situ for the foreseeable future, and continue with public access.
"This would be subject, of course, to the outcome of any discussions with administrators, and input of the trustees.
"It is vital that such an important piece of history and heritage remains in the Potteries."
George Stonier, chairman of the Wedgwood Museum Trust, said he hoped to set up a meeting with the billionaire soon.