Wedgwood family's shock that collection can be sold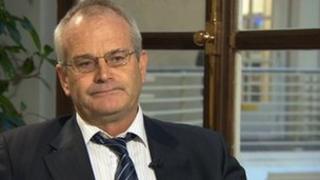 A member of the Wedgwood family has spoken of his shock that items from a pottery museum can be sold off.
On Monday a High Court judge ruled The Wedgwood Museum pottery collection can be sold off to help plug the ceramic giant's £130m pension deficit.
Nick Wedgwood said it was "absolutely essential" that the collection remained together for posterity.
He said the family would be mounting an awareness-raising campaign to try to keep the items in Staffordshire.
The museum, in Barlaston, was put into administration last year after the pottery firm collapsed and its £134m pension debt was transferred.
'Absolutely vital'
The collection is worth £11m to £18m, the High Court heard.
Administrators from Begbies Traynor can now dispose of the collection to help pay off the deficit following the collapse of Waterford Wedgwood PLC in January 2009.
But they have pledged to do everything they can to save it from being broken up and sold to different parts of the world.
The museum's collection includes works of art such as Josiah Wedgwood's celebrated Portland Vase. There are also paintings by George Stubbs and Joshua Reynolds.
Mr Wedgwood, whose father Tom worked for the company when it was still a family firm, said the family would try to put a rescue package in place.
He said: "If I said to you the government was planning to sell the contents of the National Portrait Gallery to pay off the national debt, you can imagine the outrage there'd be.
"This is a very similar thing, it's just on a different scale."
He added: "The contents of the Wedgwood Museum is the contents of the last 250 years of industrial history in the Midlands and not only that, it's a history of some of the most important movers from the industrial revolution.
"It's absolutely vital it remains as a single collection and (that it remains) in Staffordshire."
Mr Wedgwood said the family had been contributing items to the collection for 200 years for posterity and to preserve them for the nation.
On Tuesday, Staffordshire billionaire businessman John Caudwell said he might buy the historic collection to save it from being broken up.
He said the purchase would be subject to the outcome of any discussions with administrators and input of the trustees.
Mr Wedgwood said it was "encouraging" to know there were people out there like Mr Caudwell who were willing to try to keep the collection together.
He added the collection was a key part of the Midlands' history.
He said: "It's the history of Staffordshire and the Potteries and a big part of the history of Britain. To lose it is unthinkable."