West Midlands Police deliver Christmas cards to offenders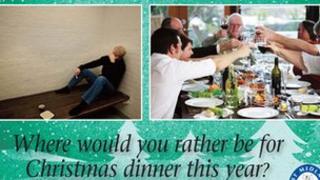 Criminals who persistently break the law are being sent Christmas cards containing a seasonal message from West Midlands Police.
The hand-delivered cards are warning them to stay out of trouble.
This year's card draws a contrast between a Christmas in the cells and Christmas at home surrounded by family and friends.
The message for regular offenders is to move away from crime and get help to make a new start, police said.
Supt Manjit Thandi said: "Christmas is a time when crime traditionally rises because people have often bought new high value items and are probably not thinking about crime prevention, whether it be while out shopping or in the home.
"Prolific offenders can be tempted to seize on this opportunity, so these cards are a reminder to them that we are here to support them in their efforts to move away from crime, whether that is by helping them find housing or get help with a drug addiction.
"If they do not seek to change their ways and take the help offered to them they could face Christmas in custody."