St John's Church guards against lead theft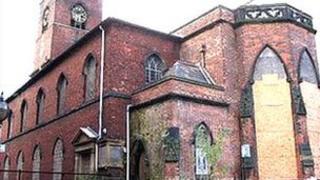 A former church in Stoke-on-Trent has been guarded by overnight patrols to stop lead theft over Christmas.
St John's Church - one of the oldest buildings in Hanley - has been empty for 20 years, but work started earlier this year to turn it into a restaurant.
The developers are currently looking for a tenant before finishing the renovations worth more than £500,000.
Derek Latham, the architect behind the work, said they were very wary of the rise in metal crime this year.
"We are putting major security into here... to make sure that all the work and the time and effort we've put into this is not wrecked by thieves."