Thousands of Staffordshire homes lost power amid gales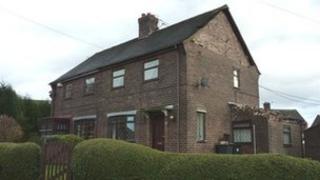 About 3,500 homes in Staffordshire and the West Midlands lost power after trees fell on to power lines.
Western Power Distribution said Stoke and Staffordshire were the worst affected areas.
Power is now back to "normal fault levels" across the West Midlands, with 700 homes in Staffordshire still without power.
A spokeswoman for Western Power Distribution said engineers would be working into the night.
She said there were no guarantees everyone would have their power restored on Thursday night but they had engineers working at 65 sites to restore power as soon as possible.
The worst affected areas in Staffordshire are Ufton, Coates Heath, Cheadle and Burntwood.
A man escaped uninjured in Staffordshire when a tree fell on the car he was driving on Common Lane, Bednall, at 06:05 GMT.
Hanley job centre on Upper Huntbach Street was closed after damage to its roof. Police sealed off the street for safety reasons.
Across the county, Staffordshire Police said it had dealt with more than 25 incidents due to high winds.
Staffordshire Fire Service said it had been called out to the collapse of the gable end of a home in Bradwell, near Newcastle-under-Lyme, shortly before 05:00 GMT.
Debris in road
Police said nobody had been injured and a structural engineer was called out.
The fire service's aerial platform was also called to secure the roof of a house on Stone Road in Stafford.
A fallen tree closed the A531 in Madeley Heath between the Newcastle Road junction and the Heighley Lane junction.
The A34 Queensway in Stafford and A51 London Road in Bridgemere, south Cheshire, have both reopened after being closed due to fallen trees.
A power failure was also believed to be responsible for the failure of traffic lights on the A500, at the junction with the A519 and M6.
In Cheshire, police said they had dealt with more than 15 incidents on Thursday morning relating to fallen trees, branches and debris in the road.
Earlier in the day, as many as 6,000 homes in the West Midlands were without electricity.