Olympians launch Newcastle-under-Lyme leisure complex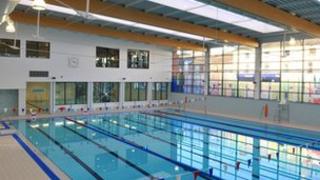 Two former Olympians have formally launched a new leisure centre in Staffordshire.
Swimming medallist Nick Gillingham and former 5,000 metres world record holder David Moorcroft were guests at an event in Newcastle-under-Lyme.
Officials at the borough council hoped the open afternoon at the £10m Jubilee2 would encourage residents to visit the new complex.
Mr Gillingham and Mr Moorcroft held talks and masterclasses.
Councillor Stephen Sweeney, leader of Newcastle Borough Council, said: "The reaction from local residents since we opened has been absolutely fantastic.
"The fact that our country is hosting the Olympics this year may well be the catalyst for lots of people to try and lead a healthier and active life."
The event was run between 12:30 and 16:00 GMT at the centre in Brunswick Street.