Teenage footballer dies after scoring goal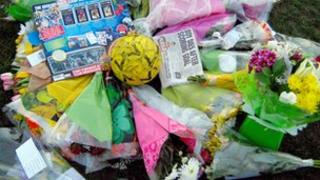 A junior football team manager has paid tribute to a 13-year-old Staffordshire schoolboy who died after scoring a goal on Sunday.
Liam Wood collapsed on the pitch just after he had scored AFC Saints' fifth goal on fields in Knutton.
He was resuscitated by people at the game and was then put in an ambulance. He died later in hospital.
AFC Saints team manager Mark Lawton described Liam as a very quiet boy who was well liked.
"It came as a complete shock. He was playing well, scored a goal and did a celebration in front of his dad and granddad.
"He'd come back to the half-way line and the game was restarting. He'd walked a few paces and he went down."
Geoff Green, manager of the opposition team Stafford Falcons, said: "After a short period of time, he wasn't coming round.
"It looked as though he'd stopped breathing, so we started giving him mouth to mouth and CPR, at which time the ambulance was called."
Facebook tributes
Hundreds of people have paid tribute to the pupil from St John Fisher Saint Catholic College in Newcastle-under-Lyme.
A page has also been set up in Liam's honour on Facebook.
One contributor said "his voice and laughter still are echoing in my head", while another post simply read "RIP Woody".
Flowers have been laid on the playing fields off Cotswold Avenue in Knutton, where Liam collapsed.
Mr Lawton said flowers had also been laid at St John Fisher School, at a spot under a tree where Liam regularly used to sit.
He added the Potteries Junior Youth League was also considering renaming a cup in memory of Liam.
On the league's website, secretary Pete Hemmings asked teams to hold a minute's applause before this weekend's matches "as a mark of respect and to celebrate Liam's love of football".
Mr Lawton said: "He really enjoyed his football and was very popular with other members of the team.
"They're a close-knit group of lads and I don't think they'll ever forget him."