Private Gareth Bellingham was 'unlawfully killed'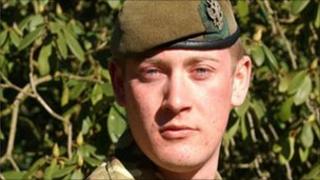 A coroner has ruled that a soldier from Stoke-on-Trent was unlawfully killed while engaged in military service.
Private Gareth Bellingham, of the 3rd Battalion the Mercian Regiment, died from a single gunshot wound through the neck in June 2011.
The 22-year-old was on patrol in Helmand Province, Afghanistan.
Coroner Ian Smith said: "He didn't suffer, nor would he have seen or heard it as he would have been instantaneously unconscious."
He added: "There is nothing anyone could have done."
Pte Bellingham's father, Leslie Bellingham, gave evidence to the court along with Captain Matthew Hickmott, who was the officer in charge of the patrol on 18 June.
The inquest heard that Pte Bellingham and 12 other British soldiers were working alongside members of the Afghan national army.
During that patrol, at about 07:30 local time, an Afghan civilian was injured by an Improvised Explosive Device (IED).
Pte Bellingham was called over to help when a group of insurgents opened fire from behind a wall about 250m away.
He received three gunshot wounds to his neck, head and arm.
A patrol medic started treatment before the Staffordshire soldier was taken to a medical centre for surgery.
He was pronounced dead almost two hours after receiving the injuries.
In July, hundreds of people lined the streets of Newcastle-under-Lyme for Pte Bellingham's funeral.