Stafford Hospital unveils new safety plan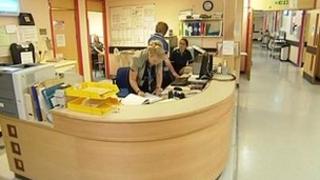 A plan aimed at making Stafford Hospital one of the safest in the country has been unveiled.
The Quality and Safety Strategy covers a range of areas from the treatment of patients to staff training.
The targets set out in the strategy include reducing death rates, complaints and the number of cancelled operations.
In 2009, a Healthcare Commission report criticised levels of care at the hospital, leading to a public inquiry.
Managers now want to be in the top 20% in the country when it comes to staff and patient satisfaction surveys.
'Capturing the imagination'
A so-called "improvement academy" will be set up so that more experienced workers can pass on their expertise to others.
Bosses also want to provide customer service training for staff to help them deal with patients.
Colin Ovington, director of nursing and midwifery at Stafford Hospital, said that everyone needed to "behave with the right customer focus".
"The clear aim with this document is about capturing the imagination of every member of staff to become better at listening to what patients tell them about the care they receive here.
"If you look at some of the history of the hospital... the attitude of staff and the way that we've communicated with patients in the past has been quite poor."