War artist exhibits at National Memorial Arboretum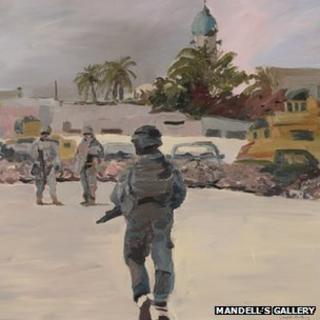 Paintings by a serving soldier, who has turned his experiences of war into art, are on display at the National Memorial Arboretum in Staffordshire.
The exhibition by Sergeant Major Douglas Farthing MBE is entitled 2Years2Wars and is the culmination of two journeys recorded in his travelling war diaries.
Focussing on his time in Iraq and on the Afghanistan/Pakistan border, his art records war and its effects.
His paintings capture the lives of soldiers, the landscape they patrol, and the local people who inhabit that space.
"I like to portray the reality of war," said Sgt Maj Farthing, "I document the real life events of serving soldiers.
"Our profession is different to any other, and the position you can find yourself in, at a moment's notice, is so different to anything at home.
'Photocopying machine'
"My eyes are naturally drawn to the darker and shadier areas of the landscape.
"I don't try to paint technically, my style is more expressionist.
"There's no plan, if I see something that interests me, I may draw it, or may take a photograph, depending on where I am or what I'm doing.
"I'll then sit in a warm space, like an office, to develop the work into a formal sketch.
"It's normally done on pieces of paper from the photocopying machine."
Sgt Maj Farthing has served for more than 20 years - firstly in the Parachute Regiment, and more recently, the Territorial Army.
The 44-year-old spent some years at the army barracks in Lichfield and it was during this time when he started to study art, attending evening classes at the local art school.
In 2001, the National Memorial Arboretum opened a few miles away from the barracks, near Alrewas in south Staffordshire.
Run by the Royal British Legion, it has more than 200 memorials commemorating those who have given their lives serving in different branches of the armed forces, the emergency services and other public organisations.
'A hidden war'
"It's obviously not a place designed to show artwork... quite clearly it's a place of remembrance.
"There are soldiers on that wall I know very well, so it's a real honour.
"The work at the exhibition reflects my time in Iraq and Afghanistan. I've thought about the themes of my paintings a lot of times.
"If I were to sit down and analyse my own artwork, all the paintings are about the type of warfare we've been fighting since the 1980s.
"It's all about counter-insurgency, IEDs, our guys patrolling in what we perceive are war zones, but are actually someone else's backyard.
"And when I look at them, I see the same problems we had in Belfast in the 1970s and 80s.
"My paintings tell the story of a hidden tension, a hidden war.
"I've obviously seen some pretty terrible things. It would be quite easy to paint those things.
"But the depth and deeper understanding within the paintings makes them more real rather than graphic detail.
"There's a painting where a lot of soldiers are waiting to get on a Chinook to go on operation.
"They're just stood around, huddled together. There's a bit of banter but actually, the apprehension of getting off at the other end is so daunting - that's what it's about.
"I do try and paint other things when I'm at home in England.
I go out to paint landscapes - Norfolk and Suffolk are beautiful, especially along the coast.
"But I'm always drawn back to that piece of ground, that unseen danger, where there may be an enemy sniper hiding."
2Years2Wars will be on display in the Long Gallery at the National Memorial Arboretum's visitor centre until 29 February.