Stafford Hospital mixed-sex ward concerns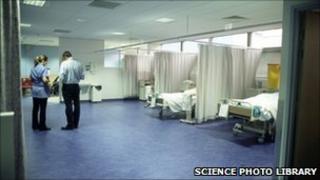 Concerns have been raised about the number of people being put on to mixed-sex wards at Stafford Hospital.
The government has said that no patients should be treated on them, but Mid Staffordshire NHS Trust has repeatedly missed that target.
Since March 2011, the trust had almost 700 breaches, including spikes of 214 and 150 cases in November and December.
Managers said the spikes were after the Strategic Health Authority told them to include more patients in their figures.
However, the South Staffordshire Primary Care Trust, which pays the hospital to provide services, has issued a formal notice ordering managers to sort the problem out.
The numbers are well above both the national and regional average. The University Hospital of North Staffordshire, which is run by a much larger trust than Mid Staffs, said that in October, it had a total of 26 patients in mixed-sex accommodation, six in November and none in December.
Hospital fines
Hospital bosses at Stafford said they would analyse every breach and also raise awareness of the issue among staff.
A statement from Colin Ovington, from Mid Staffordshire Trust, said: "Following a visit by the Strategic Health Authority in October 2011, we were advised that we must report patients who are cared for in mixed sex bays requiring cardiac monitors on our Acute Medical Unit (AMU).
"This impacted on the number of breaches that the trust subsequently reported.
"In November 2011 this peaked at 214 breaches. Some [168] were due to the cardiac monitor bay but the remainder were due to bed capacity across the trust."
He said since then, work had been carried out in December to ensure that three cardiac monitors each were placed in both of the single-sex bays.
A new system of fines was introduced by the government in April in an attempt to eradicate what it said had been a long-running problem for the NHS.
Hospitals have to pay £250 for each day a patient is kept in mixed-sex accommodation.