Stafford Hospital: Sir Stephen Moss leaves 'toughest job'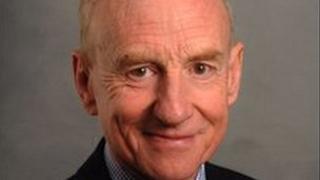 The chairman of the NHS trust which runs Stafford Hospital has stepped down after two and a half years in the job.
Sir Stephen Moss was brought in in 2009 during the aftermath of a damning Healthcare Commission report which revealed "appalling standards of care".
He said the task he found at Mid Staffordshire Hospitals NHS Trust was the biggest he had seen in 40 years in the NHS.
"It's the toughest job I've ever done," said Sir Stephen.
Sir Stephen joined the trust along with former chief executive Antony Sumara.
'Really shocking story'
Within a few weeks of their appointment, there was an independent inquiry into the standard of care at the trust. This was later followed by a public inquiry - which reports later this year.
Most recently the trust has had to deal with the drive to save millions of pounds, close hundreds of beds, and temporarily close the A&E department overnight.
Sir Stephen said: "The most significant thing is the scale of the failings here and the effect that had on this community.
"I've never seen anything like it in the 40 years I've been in the NHS.
"The devastating way that we let our patients and families down here is a really shocking story.
"It's been the toughest job I've ever done."
A 2009 Healthcare Commission report said there had been a higher than expected number of deaths at the hospital.
It cited a catalogue of failings, including cases where receptionists had been used to assess emergency patients.
'Deepest regrets'
Last year's public inquiry examined the role of regulatory bodies after the report found "appalling care" was provided at the hospital between 2005 and 2008.
It heard how people were allowed to lie in their own mess for hours, were not given the medication they needed, and in some cases were left without food or water.
Inquiry chairman Robert Francis QC is expected to release his report into what happened later this year.
"I would have liked to have felt that we'd achieved more by this stage, but what I think shocked all of us when we started was the sheer scale of what was going wrong.
"One of my deepest regrets, as I leave, is that I would have liked to have seen us make more progress.
"But in saying that, there is some evidence there that things are getting better. We are not complacent and we recognise we've still got a million miles to go.
"We are now very much more open and transparent in the way that we work, so I think we have become much better at opening up the issues and involving the local community much more than we did."
Julie Bailey, of Cure the NHS, campaigned for a public inquiry after her mother died at the hospital.
She said: "He's come here, perhaps every couple of months, and we've held him to account.
"I've discussed all the complaints we've got, and I'm sure there's not many chairs throughout the country that would have done the same.
"But then again, there's not many hospitals that have caused as much harm."
Sir Stephen's successor, Professor John Caldwell, starts on 1 February.