Stafford Hospital reports serious patient safety breaches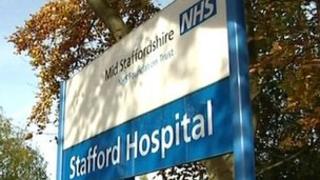 Nine serious breaches of patient safety have taken place at Stafford Hospital since April, according to new figures.
These are so-called "never events" - classed as the most serious breaches of patient care that should not happen, such as major surgical mistakes.
Figures were revealed at a public board meeting at the hospital on Thursday.
In one case, a patient was discharged with a cannula - a small tube for intravenous fluids - attached. The hospital was unavailable for comment.
Last year the hospital was the subject of a £10m public inquiry into its standards of care. The findings have not yet been released.
It followed a damning Healthcare Commission report in 2009 which revealed "appalling standards of care".
The hospital has since shut its A&E department overnight because of a lack of senior doctors and consultants.
Hugh Williams, deputy chief executive of Action Against Medical Accidents (AvMA), said the number of "never events" seemed "worryingly high".
From the previous year, April 2010-11, the hospital recorded three "never" events.
'Toughest job'
Mr Williams said: "Never events are very serious, largely preventable patient safety incidents that should not occur - for example, wrong side surgery.
"It is of great concern when any never event occurs and it is very worrying that as many as nine events occurred at one trust in one year.
"While some might question whether all trusts are equal in reporting medical accidents, I would certainly expect all trusts to report never events."
The figures come on the day Sir Stephen Moss, the chairman of the NHS trust which runs the hospital, announced he was stepping down after two-and-a-half years.
He said the task he had found at Mid Staffordshire Hospitals NHS Trust was the biggest he had seen in 40 years in the NHS.